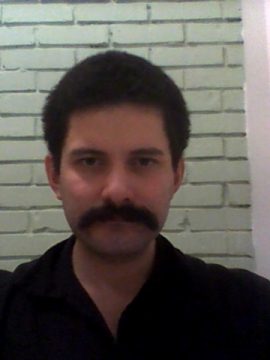 Category
Physical Sciences
Areas of Expertise
Agricultural Engineering
Biology
Chemistry
Civil Engineering
Computer Engineering
Electrical and Electronics Engineering
Engineering
Forest Engineering
Mathematics
Mechanical Engineering
Metallurgy and Materials Engineering
Physics
EDUCATION
Bachelor of Science
· Chemistry, Middle East Technical University, 2016
Master of Science
· Earth System Science, Middle East Technical University, 2018
Ph.D.
· Earth System Science, Middle East Technical University, Present
WORK EXPERIENCE
· Undergraduate Project Assistant, NOx, O3 (UV-Vis), BTEX (GC-FID) measurements, METU Environmental Engineering Air Pollution Laboratory and DOKAY Group, 2014

· Compulsory Internship, materials, chemicals and environmental samples, METU Central Laboratory (Research and Development Department), 2015

· Project Assistant, Bromlu Alev Geciktiricilerin Sucul Sedimanlardaki Akıbetinin İncelenmesi, Project No.: 115Y122, TÜBİTAK, METU Pollution Hydrology Laboratory, Environmental Engineering, 2015-2017

· Project Assistant, Türkiye'de Çamur Yönetimi Planı ve Eylem Planı Hazırlama, data collection, analysis, reporting, shop management, METU Environmental Engineering and Ministry of Environment and Urbanization, 2016-2019

· Project Assistant, Manyas Gölü Havzasının Yönetimi için Entegre Ekosistem Modeline Dayalı Karar Destek Sistemi Oluşturma, Project No.: 116Y409, TÜBİTAK, METU Geodetic and Geographic Information Technologies
PUBLICATIONS
Publications and Presentations
· Demirtepe H., Hatipoğlu, G., İmamoğlu, İ. (2017, January). Abiotic degradation of decabromodiphenylether (BDE-209) via catalyzed hydrogen peroxide propagations. Poster Presentation, 9th International Conference on Remediation and Management of Contaminated Sediments. New Orleans, Louisiana
· Hatipoğlu, Y. G., Kurt, Z. (2018, Ekim). Application of Finite Element Method by HYDRUS 1D for assessing the effects of Irrigation by Contaminated Groundwater in Turkey. Oral Presentation, Beyond: Workshop on Computational Science and Engineering. Ankara, Turkey, Retrieved from http://files.iam.metu.edu.tr/workshop_cse/participation.html
· Hatipoğlu, G., (2019, October). Decontamination Nitrate Containing Groundwater with Pump and Fertilize Application to Maize Farms, but where? Finite Element Method Utilization with HYDRUS 1D. Oral Presentation, Beyond 2019: Computational Science and Engineering Conference. Ankara, Turkey. Retrieved from http://files.iam.metu.edu.tr/beyond2019/programme.html
Other
· Hatipoğlu, G. (2019, October). Guest: How I Gained an Interdisciplinary Research Perspective as an Undergrad in the Lab and Why it was Important to Me. Retrieved October 17, 2019, from http://undergradinthelab.com/node/216.
FELLOWSHIPS/AWARDS/HONORS
Examination Achievements
· 2016-GRE:
Quantitative: 170/170 (98%), Oral: 150/170 (45%), Written: 3/6 (15%)
· 2018-IELTS
General Score: 7.5/9.0, Reading: 9.0/9.0, Listening: 7.0/9.0, Writing: 6.5/9.0, Speaking: 8.0/9.0
Grade Point Averages
· Undergraduate-GPA: 3.10/4.00
· Graduate-GPA: 3.07/4.00
SEMINARS/CONFERENCES/SYMPOSIUMS
· 3rd Ecology and Evolutionary Biology Symposium, Ankara, Turkey, 2016

· Water Monitoring Day Workshop, Ankara, Turkey, 2016

· 13th Summer School on Toxic Compounds in the Environment 2017, Brno, Czechia, 2017

· BEYOND: Computational Science and Engineering, Ankara, Turkey, 2018

· Multidisciplinary workshop on collaboration between STEM and SSH, Ankara, Turkey, 2018

· Obtaining hydrologic cycle parameters via conceptual hydrological models, Ankara, Turkey, 2019

· BEYOND 2019: Computational Science and Engineering Conference, Ankara, Turkey, 2019

· Digital Transformation & Smart Systems, Ankara, Turkey, 2019

· Nonviolence Workshop, Greenpeace, Ankara, Turkey, 2019

· Green Speakers Workshop, Greenpeace, Ankara, Turkey, 2019

· Hatipoğlu, G., Kurt, Z. (accepted, 2019). Modeling irrigation with nitrate contaminated groundwater. Pamukkale University Journal of Engineering Sciences. doi: 10.5505/pajes.2019.38963
TECHNICAL SKILLS
· HYDRUS 1D

· GMS 7.1

· Microsoft Word

· Microsoft Excel

· Criwar 3.0

· Google Earth Engine, R

· Microsoft Visual Basic
FOREIGN LANGUAGES
· English (Advanced)

· Russian (Basic)